What Is ReferenceUSA?
ReferenceUSA, an Infogroup company, has been serving the library community since 1992. Through our easy-to-use online SaaS (software as a service) platform, we provide library patrons access to extremely accurate and complete business and consumer data.
Superior Compilation. Exceptional Data.
No other big data provider goes to the lengths we do to ensure the data your patrons rely on is relevant, comprehensive, and up-to-date.
We begin by collecting hundreds of thousands of public information sources. From there, our research staff analyzes and verifies every record and compiles all the information into easy-to-use databases.
One Site. Endless Possibilities
ReferenceUSA is perfect for all your patrons' research and reference needs. Ideal users include:
Small business owners
Marketing professionals
Researchers
Job Seekers
Students
Pinpoint Prospects with Mapping
Find new prospects quickly with the Mapping Tool. You'll be able to accurately target and refine your list of potential customers with just a few easy clicks.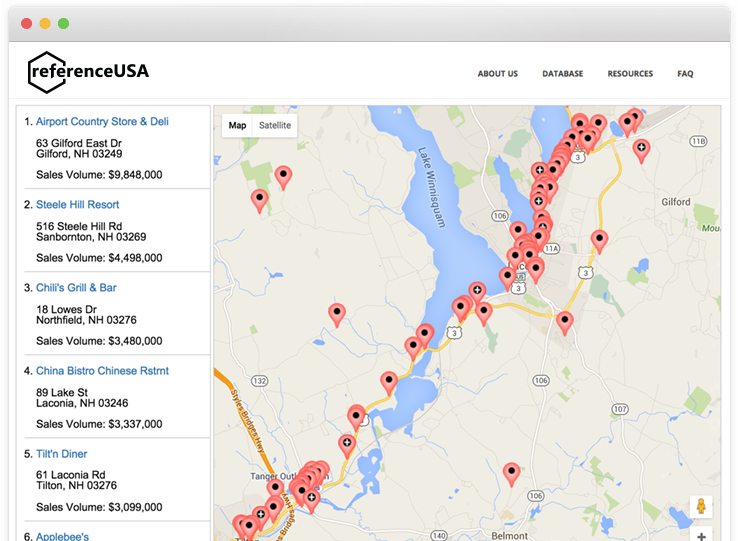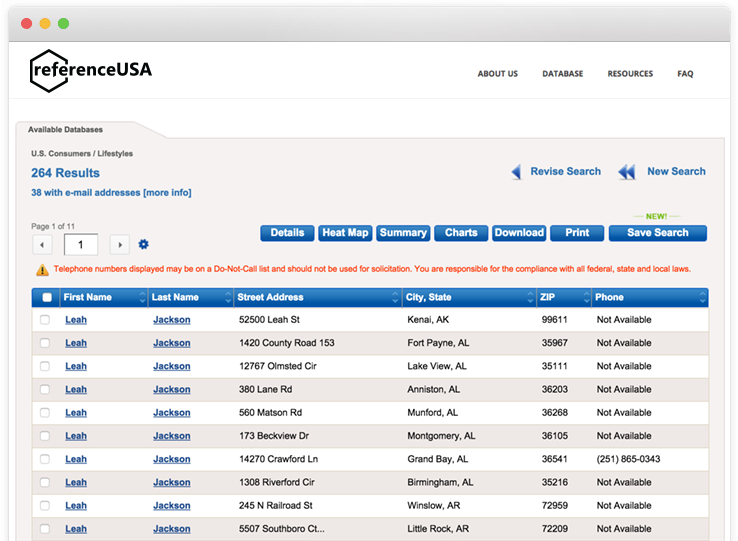 Get Results
Our industry-leading business and consumer data will deliver you with the prospects you need to succeed.
We have over 350 call center specialists placing over 25 million calls each year to ensure that data you receive is accurate.
Draw New Shapes. Find New Prospects.
Our mapping draw tool is prospecting redefined. Discover potential customers by mapping out the specific area where you'd like to find prospects. Work smarter, not harder with ReferenceUSA.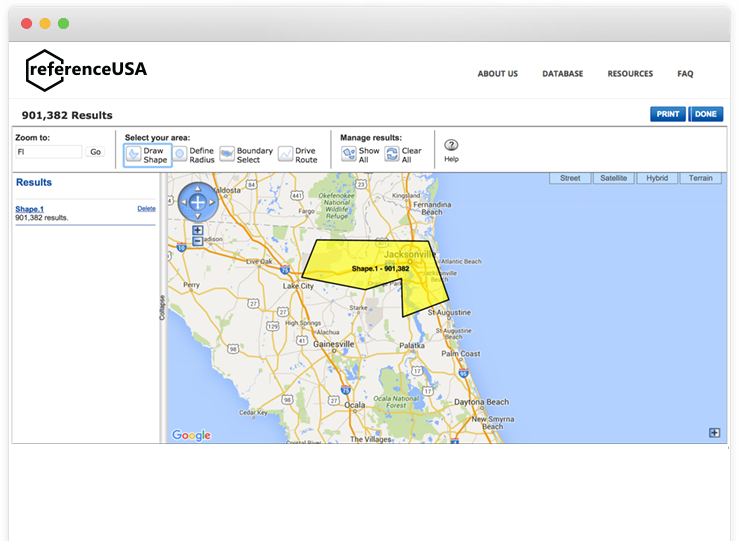 What our customers are saying
ReferenceUSA is an extremely useful resource for the small business owners and aspiring entrepreneurs that use our library. The Heat Map tool in the U.S. Consumers/Lifestyles Database is extremely useful for entrepreneurs who are looking for a business location and for businesses that are looking to advertise their goods or services to a more targeted market. Most of the other mapping tools can only create concentration maps based on geography and one additional variable, but the Heat Map tool in ReferenceUSA can create a concentration map based on geography and a multitude of variables to get very targeted results that fit our patron's needs. This tool also allows you to overlay restaurants, transportation, and additional points of interest onto your concentration map, which is tremendously valuable for businesses that are looking for the perfect location.

Brooklyn Public Library - Libarian, Business & Career Library

We've had great success with the ReferenceUSA product, especially with our business students. It has a simple interface that provides a quick lookup or an in-depth screening mode that allows the user to locate a specific company or group of companies based on a wide variety of criteria. The information provided about corporate linkage to a parent and subsidiary is especially useful as is the rest of the information returned with the search results. We have come to rely heavily on ReferenceUSA as a first stop for much of our directory lookups.

San Diego State University

ReferenceUSA is a robust tool that not only provides rich data but helps users better understand the information through its mapping and visualization features.  Our library patrons use ReferenceUSA for competitive intelligence, marketing information as well as tracking and monitoring neighborhoods for potential trends in consumer purchase patterns. In addition to entrepreneurs, we see many job seeking and re-careering clients use the database to acquire deeper insight on the companies and industries that match their career interests.  Similarly, patrons also search the database to identify the potential employers.  ReferenceUSA is a central part of our business information offerings and a resource that continues to captivate staff and patrons alike.

Ferguson Library

ReferenceUSA is a robust database that offers something for everyone.  It can be used as a simple online phone book to look up a neighbor's address and phone number or to find an old friend who moved out of state.  Use it to find places in the community such as schools, houses of worship, museums, libraries, doctors, and hospitals.  It is very popular with job hunters, as they can harness the power of ReferenceUSA to build customized lists of prospective employers by location, industry, or company size and to find real-time job listings from Indeed.com.   Small businesses and entrepreneurs can create informed business plans with ReferenceUSA by using its sophisticated "mapping feature"  to target the location and  proximity of competitors.   ReferenceUSA even allows you to search for minority businesses by gender or ethnicity, which is very important for our community.      

Manager of Information Services, East Brunswick Public Library

If you are doing any type of direct sales, information is king. ReferenceUSA is the best product to use to gather the intelligence information you need to stay ahead of your competition. Thank you to our partners at our County Library System. Through your hard work you have made this tool available to everyone at no cost. You just need your Library card.

President/CEO of Gloucester County Chamber of Commerce

Local business owners are thrilled when they see what the ReferenceUSA database can do for them. Having ReferenceUSA available has helped us build positive relationships within our business community and turned influential business owners into powerful library advocates.

Reference Librarian, Gloucester County Library System

One of our patrons who is running a nonprofit organization went to a local business workshop and heard our library system offers business resources trainings for our business communities. She scheduled a ReferenceUSA training session with me. After the demo of how she can get a list of charitable donors based on her Zip Code area from U.S. Consumers Lifestyles database, she was thrilled and amazed how this robust database can do for her and her nonprofit organization. She is so thankful to have free access to this extremely useful resource. Having this Consumers Lifestyles module available and free of charge definitely has helped our library system build stronger relationships with our business communities.

Senior librarian of Reference and Technology
Learn more about Infogroup's top marketing and sales products and services: